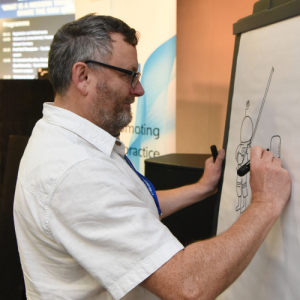 Release Your Inner Cartoonist with Harry Venning
Stone Barn
Sunday 25th September, 2.00pm-5.00pm
Tickets - £30
Cartoons are great and so are cartoonists. Become part of this elite branch of the arts at one of Harry's exclusive cartoon workshops. Learn how to transform a flat piece of paper into a riot of laughs, an explosion of adventure, a cacophony of sound and a gobsmack of disbelief. All shot through with the real emotion that comes from drawing eyebrows in just the right position. Discover the many uses of the humble asterisk and how to do a caricature.
Harry Venning is an award winning cartoonist, comedy writer and performer based in Brighton. His cartoons have appeared in many publications as diverse as The Mail, Daily Telegraph, The Radio Times, Music Teacher and The Stage. For twenty five years he has provided The Guardian with the weekly strip cartoon Clare In The Community, based upon the misadventures of an empathy-free social worker. In 2004 he developed Clare In The Community into a successful BBC Radio 4 sitcom starring Sally Philipps, which ran for twelve series. His workshop has already been performed in theatres and Arts Centres throughout the UK, at the Edinburgh, Latitude and Brighton festivals and at events in Dublin, Sicily, Rome, Basel and Budapest.