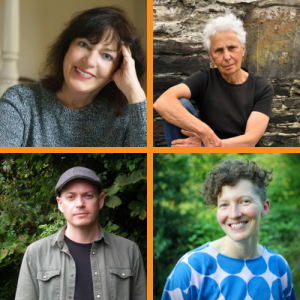 Cream of Cornish -  Ellen Hawley, Charlie Carroll, Beth Underdown & Josephine Gardiner (Sponsored by Seasalt)
The Festival Marquee
Saturday 24th September, 10.00am-11.00am
Free
We present four exciting novelists in our free session this year. Ellen Hawley is an established Minnesotan novelist who is now based in Cornwall. Her latest, Other People Manage, is a vivid portrayal of a lesbian bus driver's inexorable crack-up. Extreme mental states also rule in Charlie Carroll's debut The Lip, in which a Cornish girl retains only a tenuous hold on reality as a dangerous obsession with her mother's clifftop suicide takes hold. Beth Underdown follows up her thrilling first novel, The Witchfinder's Sister with another period mystery, The Key in the Lock set amid Cornwall's old gunpowder industry. Finally Josephine Gardiner, whose West Cornish literary thriller, Whistling Jack, sounds addictively good.
The event is free but we still need you to book so as to give us an idea of expected numbers.