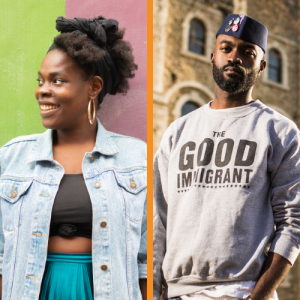 Inua Ellams & Vanessa Kisuule
The Festival Marquee
Friday 23rd September, 7.30pm
Tickets: £10
In a departure from our usual Friday night music gig, we present something new for us: a thrilling double bill of word-spells from two performance poets at the top of their game. If you've never watched performance poetry before, think of it as poetry with added excitement!
Born in Nigeria in 1984, Inua Ellams is an internationally touring poet, playwright, performer, graphic artist & designer. He is an ambassador for the Ministry of Stories and his published books of poetry include Candy Coated Unicorns and Converse All Stars, Thirteen Fairy Negro Tales, The Wire-Headed Heathen, #Afterhours and The Half-God of Rainfall – an epic story in verse. His first play The 14th Tale was awarded a Fringe First at the Edinburgh International Theatre Festival and his fourth Barber Shop Chronicles sold out two runs at England's National Theatre. He recently completed his first full poetry collection The Actual, is currently touring An Evening With An Immigrant and working on several commissions across stage and screen. In graphic art & design, online and in print, he tries to mix the old with the new, juxtaposing texture and pigment with flat colour and vector graphics. He lives and works in London, where he founded the Midnight Run, a nocturnal urban excursion. He is a Fellow of the Royal Society of Literature. You can find out more at www.inuaellams.com. Click here to watch Inua perform Dark Crystals / Soft Crowns.
Vanessa Kisuule is a writer and performer based in Bristol. She has won over ten slam titles including The Roundhouse Slam 2014, Hammer and Tongue National Slam 2014 and the Nuoryican Poetry Slam. She has been featured on BBC iPlayer, Radio 1, and Radio 4's Woman's Hour, Blue Peter, Don't Flop and TEDx in Vienna. She has appeared at an array of literary and music festivals and was Glastonbury Festival's Resident Poet in 2019. She has been invited to perform all over the world from Belgium to Brazil to Bangladesh. Her poem on the historic toppling of Edward Colston's statue Hollow gained over 600,000 views on Twitter in three days. She has two poetry collections published by Burning Eye Books and her work was Highly Commended in the Forward Poetry Prize Anthology 2019. She has written for publications including The Guardian, NME and Lonely Planet and has publication credits in pending anthologies with Canongate, Orion and Penguin Random House. She has worked extensively in theatre with Bristol Old Vic, Kneehigh Theatre and Pentabus and her Arts Council supported show 'SEXY' toured nationally in 2017. She was the Bristol City Poet for 2018 - 2020 and was co-tutor for Southbank Centre's first ever Poetry Collective alongside Will Harris. She is currently working on an essay collection and her debut novel. You can find out more at https://www.vanessakisuule.com. Click here to watch Vanessa perform Hollow or here to see her perform A Toast to the People.