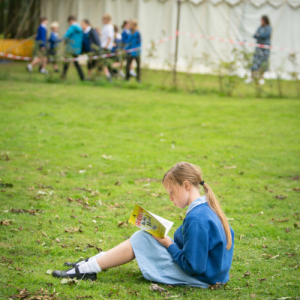 Young Cornish Writers Prizegiving
The Festival Marquee
Friday 23rd September, 4.00pm-5.00pm
Free
North Cornwall Book Festival prides itself on its deep involvement in enabling Cornish schoolchildren to meet professional writers and be inspired to write for themselves. As ever we're delighted to host the readings from the best young Cornish poets from this year's Charles Causley Young People's Poetry Prizes. Alongside them this year we'll also present prizewinning young poets from Camelford Primary School and the pick of this year's Young Walter Scott Prize workshops in historical fiction at their neighbour, Sir James Smiths School. In a neat demonstration of the way writers need to help one another along, the older students in the secondary school judged the poetry competition at the primary.
Do come along to this free event to join the young writers' proud teachers and families in giving them a taste of how it feels to read your work to a festival audience. It's free to attend but your booking helps us gauge how many people to expect.