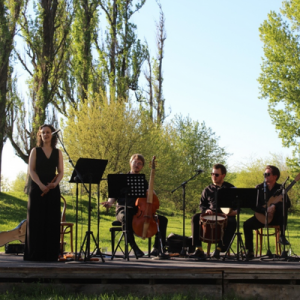 K'antu Ensemble
Saturday 14th January, 7.30pm
St Endellion Church
£12 | Free for accompanied under 16s
This January, we are thrilled to have musicians from Birmingham's award-winning early music group, K'antu Ensemble, returning to St Endellion. Join us for an eclectic performance of historical folk music from across the globe, exploring traditions and folklore behind some of the ensemble's favourite tunes. Since their last performance at St Endellion back in 2016, K'antu Ensemble have made their debut at Bridgewater Hall and led multiple performances across Birmingham for the 2022 Commonwealth Games Festival.
Celebrate the new year with K'antu Ensemble, as they explore the history of midwinter music and traditions on beautiful replica instruments. The concert will feature medieval folk carols and devotional songs, Elizabethan classics by John Dowland and Robert Johnson, as well as pieces for cittern and lute from Scottish manuscripts.
Ruth Hopkins: Voice, Renaissance Recorders, Baroque Violin
James Akers: Renaissance Lute, Baroque Guitar, Cittern
Tymoteusz Jozwiak: Percussion, Shruti Box