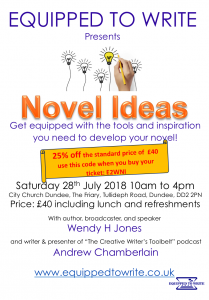 The Equipped to Write team are proud to present : Novel Ideas a day conference for aspiring novelists.
Do you think you have a novel in you, but you're not sure where to start? Join us for Novel Ideas, a conference that will give you the tools you need to create a great novel out of your ideas and inspiration. Packed with ideas and practical insights, we'll give you the tools you need to:
• Work out the best structure for your novel, using the tools and technqiues that have been applied to the very best stories in human history
• Learn how to create a killer first line. It's essential to get the start of your novel right - we'll show you how you can create that compelling first line that will hook your readers
• Showing not telling, and other tools of the trade. Transform your prose with the power of sensory language, sparse and specific description, oblique dialogue, and a range of other techniques that will energise and enliven your work.
• The light and dark of story plotting. Learn how to contrast the lighter and darker phases of your story to engross the reader and make your work as compelling as it can be
And we'll bed in all of this knowledge with afternoon workshops where you can apply your newly acquired knowledge.
Sign up today!
Saturday 28th July 2018 - 10am to 4pm
Tickets
£40