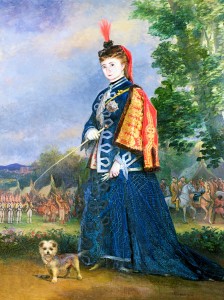 Stage Director:
      Andrew Fisk
Musical Director:
   Steven De Mesmaeker
Producer:
                Peter Willis
La Grande Duchesse de Gerolstein was a summit in Jacques Offenbach's career. Some of his most lively music and a wonderfully ridiculous plot enliven this tale of the monarch of a small European country whose ministers decide to go to war in order to keep her entertained.
La Grande Duchesse de Gerolstein a été un sommet dans la carrière de Jacques Offenbach. Une musique des plus joyeuses et une intrigue merveilleusement ridicule animent cette histoire d'un monarque d'un petit pays européen dont les ministres décident d'entrer en guerre pour la divertir.
La Grande Duchesse de Gerolstein was een hoogtepunt in de carrière van Jacques Offenbach. Een mix van zijn meest vrolijke aria's en een heerlijk belachelijke plot maken er een heerlijk verhaal van; de Groothertogin van een Europese ministaat verveelt zich, dus haar ministers besluiten ten oorlog te trekken om haar bezig te houden.
Sung in the original French, partly in Dutch; spoken dialogue in a modern and comical English.  The entire show is also surtitled in French, Dutch and English.  The operatta has been painstakingly orchestrated and will be performed by a live orchestra directed by Steven De Mesmaeker.
The show will be performed at De Bosuil Cultural Center (E411: Exit 2: bus 344):
Thursday June 22nd at 8.00 pm
Friday June 23rd at 8.00 pm
Saturday June 24th at 8.00 pm
Sunday June 25th at 3.00 pm
Running Time:  2 hours & 40 minutes including the interval
Ticket Prices:
Standard Ticket & Wheelchair Accessable:  €24
Group Booking (5-9 seats):                            €22
Group Booking (10+ seats):                            €20
The Cast:Josephine Draycott
as
La Grande Duchesse
Paul Gosme
as
Fritz

Helena Skarfors
as
Wanda
(Thu & Sat)
Constance Loupan Cayeux
as
Wanda
(Fri & Sun)
Pieter Goossens
as
General Boum
Matthew Carver
as
Baron Puck

Jean-Luc Wietor
as
Prince Paul

Peter Willis
as
Baron Grog

Robin Hurd
as
Nepomuk

Filipa Ferraz, Carol Piquemal, Diane Sutherland & Denise Wicken 
as 
The Desmoiselles D'Honneur

Chorus:  Barbara Bauer, Anna Matthiessen, Caroline Williams, Margot Meersseman, Claudia Huetten, Eva Karlsson, Lluis Bronson, Robert Mathiak, Christopher Feghali, Joost Kulhmann, Vitor Martins, Michael Berrisford & Pierre-Boris Thoron.
For any questions or problems with bookings, please send an email to:  
info.etcetera2009@gmail.com