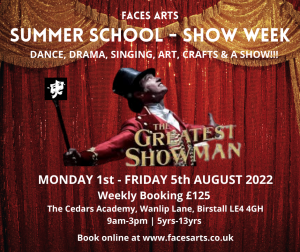 Join Faces Arts for lots of fun and activities during the Summer Holidays!
Dance, Drama, Arts, Games & a SHOW on the last day!! .... oh & lots, lots more! 
******WEEK 2 - SHOW WEEK
Monday 1st to Friday 5th August 2022 inclusive
9am to 3pm (weekly sign up)Cost:
£125 (for 5 days)
Sibling discount:
Second child £100 per week
The course can be paid in full, alternatively a deposit of £25 per child can be made with final balance payment due at least 2 weeks before the course start date.
Children are split into three different age groups. Depending on their age at the time of summer school, please select the relevant ticket option.
5-7 yrs
8-10 yrs
11-13 yrs
Children will need to bring the following to Summer School...
* Packed lunch & drinks
* Tuck shop money (50p max)
* Apron for Art
* Suitable footwear for Dance (no sandals)
* Sports wear/comfortable clothing
* Depending on the weather - please apply suncream prior to your arrival and bring a rain coat if it's forecast.