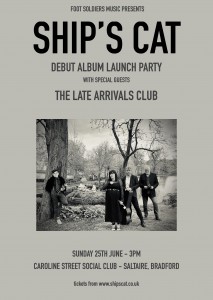 With special guests - The LATE ARRIVALS CLUB and more.
Songs by Bradford indie-rock quartet were conceived during COVID lockdowns while the wife of Ship's Cat songwriter and guitarist Phillip Veitch was many miles away in a London hospital, undergoing prolonged and intensive treatment for her struggle with mental ill health.
The album deals with the trauma of this period alongside death, addiction and the life changing loss of Phillip's younger brother to a heroin overdose.  During the writing and recording process, Phillip was looking after his young family and keeping his business afloat.
Writing these songs was a cathartic experience and it is what helped Phillip and the band through these deeply troubling and uncertain times.
Sat at Phillip's kitchen table with a laptop and a simple audio interface, the band carefully crafted their songs during the evenings when family commitments allowed. Phillip and lead singer Nicky worked on lyrics and then visited their friend Mickey Dale (Embrace) at his Cellar of Dreams studios in Heaton, Bradford where they recorded the lead vocals, backing vocals and percussion.
Whilst Ship's Cat's album touches upon some very serious subjects, the end result is an uplifting and vibrant body of work that resonates with hope and positivity.
This event offers the opportunity to share these songs live along with some amazing support from special guests including The Late Arrivals Club playing a soft blend of country fused rock and pop with a soulful vibe.
Sunday 25th June 2023 - 3pmTickets
£6 (over 14 yrs)