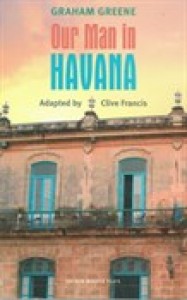 The Bar open from 19:00 to 23:00
Formby Little Theatre present Our Man In Havana by Graham Green, adapted by Clive Francis
Directed by Ian Bryden
Jim Wormold, an under-employed vacuum cleaner salesman living in 1950s Cuba, is struggling to pay for his teenage daughter's increasingly extravagantly lifestyle. So when the British Secret Service asks him to become their äóÖman in Havana' he can't afford to say no. There's just one problem: he doesn't know anything!
2nd to 6th and 9th to 13th June 2020 
at 19:45
Tickets
 £10 (
Available from 1st May 2020 
from the Box Office on 
01704 875821
 - 
Sorry, Cheque or Cash Only
) 
NOT AVAILABLE FOR ONLINE BOOKING
This amateur production of 'Our Man In Havana' is presented by special arrangement with Samuel French Ltd.