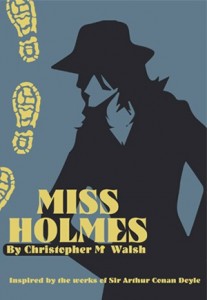 The Bar is open from 19:00 to 23:00
Formby Little Theatre Youth Group present Miss Holmes by Christopher M Walsh, based on characters by Sir Arthur Conan Doyle.
Directed by Erin Grimes and Rachael Armstrong
When an anonymous note sends a newlywed wife looking for help, Miss Sherlock Holmes and Dr. Dorothy Watson work together to uncover the secrets surrounding a corrupt police inspector whose wives have a habit of turning up dead. But this Holmes and Watson face far greater challenges than bringing the cunning criminal to justice. Miss Holmes possesses one of the greatest deductive minds of her generation, but she chafes at the restraints imposed upon her by society and family. Dr. Watson struggles to make a difference at the only hospital in London that will hire female doctors. In a time and place where gender roles are rigidly defined, these unconventional women dare to challenge societal norms by providing an unusual, but necessary, service. Inspired by the works of Sir Arthur Conan Doyle, this theatrical fan fiction shines a new light on favorite characters from the canon, re-examining the Victorian world of Holmes and Watson by exploring the added obstacles faced by these two iconic characters if they were women.
27th to 30th July 2021 
at 19:45
BOX OFFICE OPENS 1ST JUNE.





BEFORE BOOKING PLEASE THINK CAREFULLY ABOUT DATE AND NUMBERS.  TICKETS ARE NOT CHANGEABLE OR REFUNDABLE OTHER THAN IN EXTREME CIRCUMSTANCES.

Tickets
£8 
Online by Credit or Debit Card (24 hours, 7 days a week)
-
Select Book at the right
 - or from the Box Office
by Bank Transfer or Cheque (10:00 to 18:00, Monday to Saturday)
on 07903 963508.
Produced by special arrangement with THE DRAMATIC PUBLISHING COMPANY of Woodstock, Illinois.