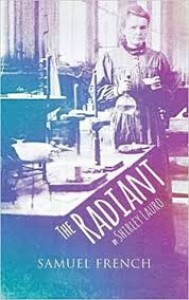 The Bar is open from 19:00 to 23:00
Formby Little Theatre present The Radiant by Shirley Lauro
Director to be confirmed
Set one hundred years ago in Paris, 
The Radiant
 centers on the true, tempestuous, and love-torn life of Madame Marie Curie. Widowed at thirty-nine, with two young children to raise and support, she becomes involved in a scandalous affair with her young married assistant, an affair which rocks Paris and nearly costs her her career - and her life. But, she survives this and the great bias against women scientists throughout Europe then and goes on to discover and isolate radium, earn two Nobel Prizes, and revolutionize the world of science forever, ushering in "The Atomic Age" and the first cure for cancer.
23rd to 27th March and 30th March to 3rd April 2021 
at 19:45
BOX OFFICE OPENS 1ST FEBRUARY.





BEFORE BOOKING PLEASE THINK CAREFULLY ABOUT DATE AND NUMBERS.  TICKETS ARE NOT CHANGEABLE OR REFUNDABLE OTHER THAN IN EXTREME CIRCUMSTANCES.

Tickets
 £10
Online by Credit or Debit Card (24 hours, 7 days a week)
-
Select
Book
at the right
 -
or from the Box Office by Bank Transfer or Cheque (10:00 to 18:00, Monday to Saturday)
 on 07903 963508.
This amateur production of 'The Radiant' is presented by special arrangement with SAMUEL FRENCH LTD a Concord Theatricals Company.