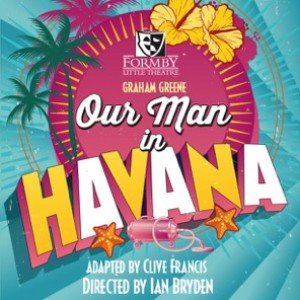 The Bar is open from 19:00 to 23:00
Formby Little Theatre present Our Man In Havan, adapted by Clive Francis from the novel by Graham Greene.
Director to be confirmed
Jim Wormold, an under-employed vacuum cleaner salesman living in 1950s Cuba, is struggling to pay for his teenage daughter's increasingly extravagantly lifestyle. So when the British Secret Service asks to become their 'Our Man in Havana' he can't afford to say no. There's just one problem: he doesn't know anything! To avoid suspicion he begins to recruit non-existent sub-agents, concocting a series of intricate fictions. But Wormold soon discovers that his stories are closer to the truth than he could have ever imagined ... In Clive Francis' adaptation, Graham Greene's classic satirical novel becomes a wonderfully funny and fast-moving romp.
1st to 5th and 6th to 12th June 2021 at 19:45
BOX OFFICE OPENS 1st MAY.
BEFORE BOOKING PLEASE THINK CAREFULLY ABOUT DATE AND NUMBERS.  TICKETS ARE NOT CHANGEABLE OR REFUNDABLE OTHER THAN IN EXTREME CIRCUMSTANCES.
Tickets £10 
Online by Credit or Debit Card (24 hours, 7 days a week)
 -
Select Book at the right
 - or from the Box Office
by Bank Transfer or Cheque (10:00 to 18:00, Monday to Saturday)
 on
07903 963508
.
This amateur production of 'Our Man In Havana' is presented by special arrangement with SAMUEL FRENCH LTD a Concord Theatricals Company.