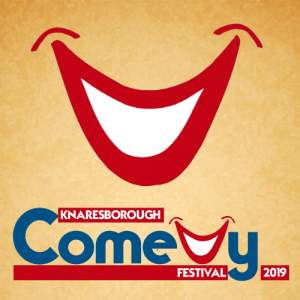 On Friday 19th July The Knaresborough Comedy Festival 2019 gets underway with two firm favourites from the Frazer Theatre Comedy Club, back with their brand new shows.
Harriet Dyer, one of the most beloved acts to ever grace the Frazer Theatre stage, brings an inevitable whirlwind of chaos to town with a show on her favourite subject-dinosaurs. Then Lou Conran, often seen raiding the theatre costume store, presents an hour of thoughts, sometimes random, sometimes inappropriate, but always brilliantly funny.  
Tickets are £10. Multibuy offers are available (see below). Doors open at 7.30pm, show starts at 8pm.  
Harriet Dyer – The Dinosaur Show (Work in Progress)
Harriet (BBC3, BBC Live at The Fringe, BBC Radio 4 Extra, BBC Knock Knock, BBC Ouch, Absolute Radio) loves dinosaurs, you probably do too so come and dip your body in her very large catacomb of chaos. New show, whatever happens - dinosaurs and ditties are a guarantee.
"Harriet Dyer was one of the stand out superstars for me of this years Edinburgh Fringe. She's insightful, unique, peerless, extraordinary and… well, maybe a little unhinged." 4 Extra Stands Up, BBC Radio 4 Extra  
Lou Conran - Things I Think & Probably Shouldn't Say (Work in Progress)
What it says in the title. Therefore I'm allowed to say it's a work in progress because if you lot don't like what I'm saying then at least I can say I was just experimenting. (Having said that I don't do politics, I don't do satire, I just say things that aren't always appropriate, and apparently you're not always allowed to do that. Until now.)
★★★★★ "A master class in long form comedy" Edinburgh Guide
★★★★ "Laugh out loud hilarious" The Scotsman
★★★★ "Earthy and potty-mouthed, warm and bawdy" **** The Wee Review
As seen/heard on BBC, ITV, Ch4, R4.  
Knaresborough Comedy Festival 2019
In 2019 the Knaresborough Comedy Festival will take place over two weekends in July giving the chance to see eight fantastic comedians.  
There will be a double bill show at 8pm on the Friday and Saturday nights, each with two full Edinburgh Festival previews.  
The full festival line up is:  
Friday 19th July 8pm                      Harriet Dyer and Lou Conran Double Bill 
Details
Saturday 20th July 8pm                  Rob Rouse & Helen Rutter and Boothby Graffoe Double Bill  
Details
Friday 26th July 8pm                      Tom Toal and Mark Simmons Double Bill  
Details
Saturday 27th July 8pm                  Maisie Adam and Alfie Moore Double Bill  
Details
Ticket prices are:  
All Shows Maxi Ticket                   £32        (All 4 double bill shows) 
Details
Weekend Double Bill Ticket          £18        (Both double bill shows in the chosen weekend)  
Weekend 1 Details
Weekend 2 Details
Individual Double Bill Ticket          £10
All tickets are available from our online box office or by calling 07835 927965 (payment will be taken at time of booking).  
Individual Double Bill Tickets will also be available in The Olde Chemist Shop, Market Place, Knaresborough.