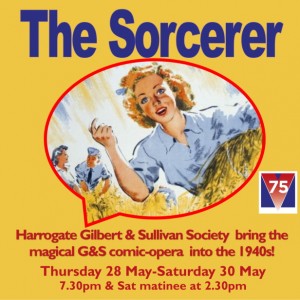 Joining in with Knareborough's VE Day anniversary celebrations this May, Harrogate Gilbert & Sullivan Society makes a welcome return to the Frazer Theatre from May 28 – 30, with brand new production of the spell-binding G&S classic, The Sorcerer. 
This delightful comic opera contains some of the finest melodies Sullivan ever wrote and was his first major success with WS Gilbert. Directed by Oliver Longstaff, this new version of The Sorcerer brings the plot into the 1940s as the villagers prepare to celebrate. When starry-eyed young lovers, Alexis and Aline, decide everyone in their village should be as happy as they are and hire a magician to brew a love potion for the village, typical G&S mayhem and hilarity ensue.
A great evening of entertainment and wonderful singing is anticipated in this magical 1940s production of The Sorcerer – think 'G&S meets Dad's Army'! 
The show runs at the Frazer Theatre from Thursday 28 May-Saturday 30 May with performances at 7.30pm each night and a Saturday matinee on the 30th at 2.30pm. Tickets are £12. Free carer tickets are available on application by phone on 01765 676561 / 07788 875526.
A special preview show for local groups and individuals for the differently-abled takes place on Wednesday 27 May at 7.30. See the HGSS website (hgss.info) for more information.