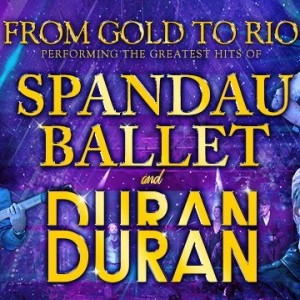 On Saturday 9th April 2022, Frazer Theatre Music presents "From Gold to Rio: The Greatest Hits of Spandau Ballet and Duran Duran". Two of the UK's most iconic bands will be brought to life in one power packed show!
Tickets are £20 (10% booking fee applies). Please see below or visit
www.frazertheatre.co.uk/covid-19
for details of additional safety measures and entry requirements introduced to help protect our staff and audience members.
Doors open at 7pm and the show starts at 7.30pm.
From Gold to Rio will take you on a nostalgic journey back to the New Romantic era which ruled the charts for over a decade. For the very first time the music from two of the UK's most iconic bands will be celebrated in one power packed show! With over 20 top 10 hits, the show will feature 2 hours of non-stop, classics including Gold, Rio, True, The Reflex, Through the Barricades, Save A Prayer, Lifeline, Girls on Film, to name a few, guaranteed to leave the audience shouting for more!
Performed by a full 8 piece live band with over 30 years professional experience, this show features excellent vocals, tight harmonies, a powerhouse rhythm section and an infectious sense of fun. 
Chris Clark who portrays Simon le Bon has been a professional musician for nearly 20 years. Bearing a striking likeness to Simon he is also a fabulous "sound-alike". 
Lee James is widely recognised as the most authentic performer to Tony Hadley, playing across the UK and Europe for over 10 years. Lee has performed with Tony on various occasions, including BBC's The One Show and is endorsed by Gary Kemp and Tony himself. Martin Kemp when seeing a picture of Lee on Facebook commented "you got it dude!" High praise indeed!!
So, if you're a Duranie, a Spandie, a Wild Boy or a Soul Boy, then this is something you don't want to miss!
Should this event need to be cancelled or rescheduled due to Covid-19 restrictions, rest assured that your tickets will be transferred to the new date or, if the new date is not suitable or a new date cannot be set, a full refund will be issued. With the exception of this our standard booking policy applies.  
**** Covid 19 Safety Measures and Entry Requirements ****
As we welcome audiences back to the Frazer theatre we want to make sure that we keep both them and our volunteers as safe as possible. We have implemented a range of measures in place that we want to make you aware of and we thank you in advance for adhering to these when you visit us. Please make sure that all members of your party are aware of these measures.
Confirm your Covid-19 Status
If you have tested positive for COVID, or are experiencing symptoms, we ask that you please don't attend the event.
Everyone 16 years or over will be required to show one of the following:
   • A valid NHS Covid Pass;
   • Proof of a negative lateral flow test logged within 48 hours of the event;
   • Printed vaccination card showing two vaccinations have been completed at least 14 days before the day of the event
Where possible we encourage people to use the NHS Covid Pass which we will be able to scan on the day. This will not tell us anything other than your name and whether or not you meet one or more of the following criteria. It will not tell us which of the criteria you meet.
   • You are double vaccinated with the second dose received at least 14 days ago
   • You have logged a negative lateral flow test result on the Government website within the last 48 hours
   • You have had a case of Covid-19 confirmed by a PCR test within the last 180 days (and more than 10 days ago)
We do, however, understand that this might not be possible for everybody so we will also accept text/email confirmations of negative test results logged on the Government website OR a timestamped photograph of a negative lateral flow test, with the attendees face in the photograph OR the printed vaccination card and photographic ID for those who are fully vaccinated.
For more details on how to obtain an NHS Covid Pass or how to undertake a lateral flow test please see the information on our website by clicking here.
Face Coverings
We ask that all volunteers and audience members, unless exempt, wear a face covering when moving around inside the theatre. Once you are in your seat you may remove it if you choose to do so.
Arriving at the Theatre and Intervals
Doors open 30 minutes before the show starts – please arrive in good time.
Before the show the queue to enter the theatre will be outside.
During the interval we may need to extend the bar queue outside if the area becomes too congested or to help with social distancing – please bear this in mind, particularly if it is raining.
Audience members are asked to be considerate of others and maintain social distancing when queuing at the door, bar or toilets. If one of our volunteers asks you to move please follow their guidance.
We ask audience members to leave the bar area if they are not queuing for the bar or toilets.
Card Payments Only
In order to minimise contact with our volunteers, we will only be accepting card payments on the door and at the bar. Please ensure that you have a credit or debit card with you.
Ventilation
Before the show and during intervals we will be opening all external doors to provide ventilation. Please be aware that this could make the auditorium colder than usual.
Hygiene
During your visit please use the hand sanitiser available and wash your hands regularly. There will be hand sanitisers available upon entering the theatre, at the bar and in the toilets.
Leaving the Theatre
When leaving the theatre please take any empty glasses, cans, bottles or other rubbish with you and put in the bins provided in the bar area.
Please be aware of those around you and maintain your distance.
Questions
If you have any questions about anything above, please do not hesitate to contact us by e-mailing box.office@frazertheatre.co.uk.