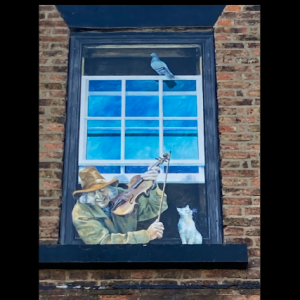 On Wednesday 9th November, The Spa Players present the amazing story of Blind Jack of Knaresborough in music and words.
After losing his sight from small pox at age 6 Jack learned to play violin and oboe and went on to earn his living as a musician before becoming famous as a road builder. By the age of 15 he was the official Spa Musician in Harrogate's hotels and ballrooms and was also invited to play in homes of the gentry and in York Assembly Rooms. At the time of the Jacobite rebellion he marched to Culloden as a musician with the Yorkshire Blues.    The music for this presentation is from collections of dances, songs and instrumental airs published during Jack Metcalf's lifetime and known from musician's manuscripts to have been popular in North Yorkshire. The lively musical programme will be accompanied with entertaining stories of Jack's extraordinary escapades and achievements.    The Spa Players  Violins: Geoff Bowen, Eva Bechelet. Oboe: Jennifer Pease.
Flute: Gordon Tyrrall.  Keyboard & Vocals: Helen Hockenhull.
Cello: Anahata.
Narrator: Catherine Gibson.
Tickets are £12 plus £1.20 booking fee.
Doors open at 7pm and the show starts at 7.30pm.