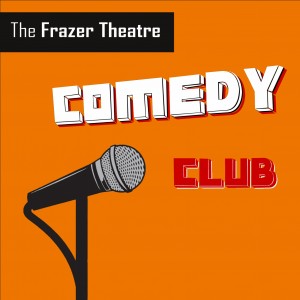 The Frazer Theatre Comedy Club made a storming comeback with our September show and we're going to keep that ball rolling with another world-beating selection of the finest comedy talent around on
Friday 7th October
. As the host of our September show put it "You've got an Edinburgh award winner and one of the guys who created Viz, and they're just the support acts!". 
Because we love you, our faithful audience, tickets are still just £10 in advance, £12 on the door - when times are hard and money is tight, we want people to still be able to afford to come out and have a laugh!
Doors open at 7.30 pm and the show starts at 8pm.
Appearing at the club this month are:
Ed Aczel
One of our favourite acts to ever appear on the Frazer stage, Ed is a master of "anti-comedy", with audiences crying with laughter with no real clue why! A truly unique performer, Ed somehow melds the presentation style of a mid-level management seminar with one of the finest comedy minds in the business to create an act so singular and entertaining you really have to see it to believe it. Very busy with acting work currently, it's a rare treat to be able to see Ed performing live outside of Edinburgh or London these days, so don't miss your opportunity!
Simon Donald
Internationally renowned lavatory humourist and co-founder of Viz Comic, made history alongside his brother and a school friend by turning their playground antics into the notorious sales phenomenon of the late 20th century. 
A true renaissance man, he has worked in stand-up, both as himself and as a character comedian since 2005, writing and performing ten one man shows at the Edinburgh Fringe. He appears as a compere, both at comedy clubs and events, lectures on the history of Viz Comic to arts and business courses and hosts cartoon workshops for younger students.
Kate Martin
Kate is a stand-up comedian who was made in the South but born in the North. Currently storming the clubs in London and beyond.
Kate's experience in mental health gives fuel to her confident, high energy storytelling combined with razor sharp observations of life's quirks through queer eyes….
James Meehan
James is a five star reviewed stand-up comedian, actor, director and writer. He was part of the award-winning sketch troupe Gein's Family Giftshop. They were 2014 Fosters Edinburgh Comedy Award Best Newcomer nominees, 2014 London Sketchfest Best New Sketch Act winners, 2014 London Sketchfest Audience Choice Award winners.
As a solo performer he has various television and radio credits as well as taking two critically acclaimed shows to the Edinburgh Fringe Festival. He is also part of the Foster's Edinburgh Comedy Award panel prize winning show Funz & Gamez, who consistently get four star reviews from publications such as The Guardian, The Telegraph, The Independent, The Times and Chortle.