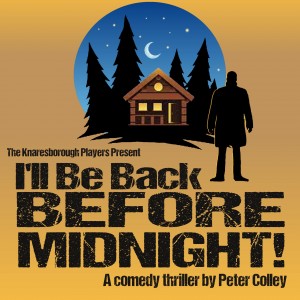 From Wednesday 19th to Saturday 22nd October, the Knaresborough Players presents Peter Colley's thrilling play I'll Be Back Before Midnight.
Jan (Jemma Bunting) has recently had a nervous breakdown, and her husband Greg (Jocelyn Cook), an geologist, has rented an old farmhouse in the country where she can recover. When George (Colin Beveridge), the hilarious farmer they rent the house from, tells stories about a terrible murder that once took place in the farmhouse and the ghost that reputedly stalks the night, Jan's imagination gets fired up.  The situation gets even worse when Laura (Sian Pearce), Greg's beautiful but manipulative sister arrives.  Soon Jan finds herself tormented by strange sounds in the night, and visions of the vengeful ghost.  Is she having another breakdown?  Is someone trying to drive her mad?  When she tries to defend herself from this apparition, events take an unexpected turn in a night of unimaginable suspense.
Tickets are £10 (£8 over 60/under 16). Doors open at 7pm and the show starts at 7.30pm.
**Please note that this is a high intensity show that contains loud noises and adult themes. Not recommended for children under the age of 14.