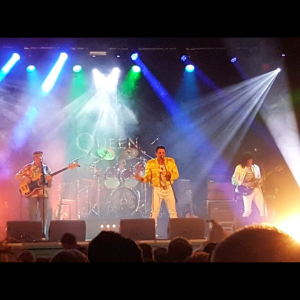 On Friday 28th June, Frazer Theatre Music presents the premier UK Qween tribute band, Qween UK. Consisting of four experienced and professionally seasoned musicians, with a shared passion to produce and successfully deliver the definitive "Queen live experience" on stage to a very high standard.

Qween UK are fronted by the highly talented singer and musician Billy West who has over thirty years professional experience working as the eclectic legend that is Freddie Mercury. QWEEN UK's extensive live repertoire encompasses all the "classic" Queen songs as well as their subtle and much-loved acoustic arrangements respectively.

Tickets are £20 + £2 booking fee.

Doors open at 7pm and the show starts at 7.30pm.