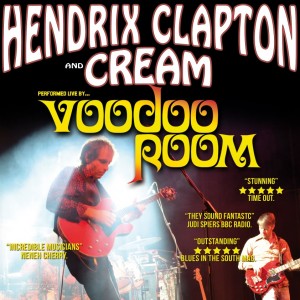 On Friday 28th June, Frazer Theatre Music plays host to a tribute to the masters of classic blues rock, Jimi Hendrix, Eric Clapton and Cream. Voodoo Room, a new and exciting power trio featuring some of the UK's finest musicians, are a tribute band with a difference, and their refreshingly energetic and unpretentious live show is not to be missed! Voodoo Room deliver a full-on show that features all of your favourite Hendrix, Clapton and Cream tunes, performed with an energy and virtuosity that transcends tribute band status.

The sheer musical ability of the band is a force to be reckoned with. This is definitively NOT a wig wearing, dress up, pantomime style tribute band – rather, it is simply great music performed by great players with real pedigree. With many "Name" artists on their CVs, such as Stevie Winwood, Massive Attack, Ben E King etc this is a band with real talent.

Voodoo Room's mission is to deliver the all-time great Cream, Clapton and Hendrix numbers with a true passion and energy worthy of the classic masters. Their show is beyond any tribute, it is simply a celebration of the pure power trio. Don't miss the opportunity to experience the thrill of this musical ride as it was back then.

Tickets are £15 + £1.50 booking fee.

Doors open at 7pm, show starts at 7.30pm.

www.voodoo-room.com


Refund Policy – In line with other venues we don't offer a refund service except upon the show been cancelled, however if you can't make it the event we will try and resell your ticket and if we do resell it then we will happily refund the ticket price. (excluding any booking fees you have paid. ) We will be able to inform you of a resale after the event.