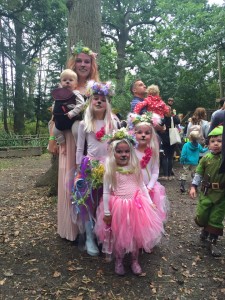 Come play in the woods and the pirate boats at this Once Upon A Time fairytale themed family rave. BFLF present a world of music, dance, craft and fun for families (aimed particularly for families with children aged 0-8 years but all ages welcome) that has won Best Family Event for 3 years running at The Arts Council National Family Arts Festival Awards and this year also won all 3 Audience Choice Awards for Best Event, Best venue and Best Welcome..
Dress up as a a character from fable and immerse yourselves in a musical wonderland. Children and parents will love having the freedom to throw some shapes in the open air to BFLF acclaimed resident DJs Baker & Beale's inspired choice of genre-spanning dance music from classic rave to house, disco to hip hop, techno to drum'n'bass,. With glitter cannons, bubble machines, giant balloons and a huge parachute finale, this rave will go into legend!
Captain Cookie's craft tables and giant colouring murals complement the theme - older children can make accessories and receive free transfer tattoos and the littlies will adore playing at the play-doh table.
With licensed bars, great food on sale and a chill out area for babies there is something for everyone. As this is an outdoor event we can only accept cash as payment, Please also note appropriate clothing must be worn depending on the weather.
All this and home by teatime! .
The last event sold out weeks in advance and we have had people clamouring for their return ever since - it is seriously good fun. Dance, laugh, craft and be daft - see you on the dancefloor Happily Ever After!
"London's latest clubbing craze" - The Guardian
"reputation for credible music...magical" - Time Out