Scarefest Evenings this Halloween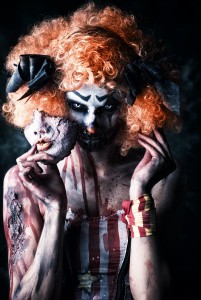 27th October - 31st October 2017
7pm - 10pm (slots)

Many myths surround the disappearance of the once world famous Alfonzo Circus, travelling the UK during the summer of 1965 to rave reviews the troupe headed to Kent and that was the last time anyone saw of them or so we thought! Venture deep into the forest at Groombridge Place this Halloween and see if the sightings are true! Will you make it out alive? This experience is not for the faint hearted and not suitable for children under 12 years old. Make it through the woods and enjoy drinks BBQ and much more!

BUY TICKETS ON THE DAY: normal price tickets are available from the admissions desk at Groombridge Place. Annual membership is also available,
BUY TICKETS IN ADVANCE:
SAVE 10%.
Discounted tickets are available on this site (until midnight the day before).

Please note Groombridge Place is an outdoor venue some activities can be weather dependant and please dress accordingly
Venue Groombridge Place
Groombridge Hill
Groombridge, Tunbridge Wells
Kent
TN3 9QG