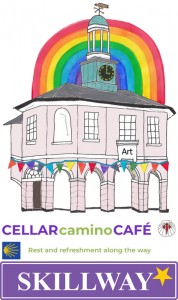 A celebration of live performance.
Staged by GTG and featuring performers from across the ArtGodalming community. 
All proceeds to Skillway and Cellar Camino Cafe.
'Up Where We Belong' reunites performers with live audiences, bringing together the local Godalming community in shared applause whilst raising funds for local charities.
Coming Together for the Community
Since theatres closed in March 2020 performers have been waiting in the wings.
When the WCT charity approached Godalming Theatre Group to help organise a concert to raise much needed funds Skillway and The Cellar Camino Café , Godalming Theatre Group, who has brought live theatre to the town for almost 60 years, jumped at the chance to invite local performers back on stage where they belong.
Sunday 12th September 2021 - 2.30 pm and 7.00 pm.Tickets £10
Everyone involved on stage and behind the scenes in this concert is giving their time free of charge and every penny raised will go directly to the charities Skillway and Cellar Camino Cafe.
Covid 19/Public Safety: We shall adhere to all government legislation and guidance from the theatre industry that is current at the time of the event.