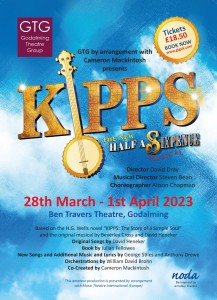 Tuesday 28th March to Saturday
1st April 2023
Tickets £18.50
For Group Bookings of 20 or more please call the Box Office - 07402 484 484
GTG is delighted to be presenting this new, updated stage version of Half a Sixpence.
Julian Fellowes, of Downton Abbey fame, has added his magic touch to this much-loved musical in a timeless and contemporary way, while Stiles and Drewe's brilliantly infectious new score compliments the original David Heneker classics with a joyous energy.
Set at the turn of the century, the timeless story of Arthur Kipps, a "a simple soul" who dreams of a better and more fulfilling world, is familiar to many who will remember Tommy Steele in this iconic role.
When Arthur unexpectedly inherits a fortune that propels him into the upstairs, downstairs world of English society, it confuses everything he thought he knew about life. Join a stellar GTG cast for what promises to be a 'Flash Bang Wallop' of a musical experience.
"A feelgood musical that will have you tapping your feet... and basking in the glow of its undisputed warmth"