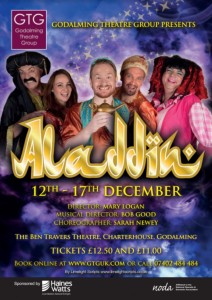 GTG's pantomime Aladdin A Genie-Us pantomime tells the traditional story of the poor laundry boy who gets ideas above his station.
Aladdin is determined to catch a glimpse of the beautiful Princess Jasmine, risking his own life in the process. When they finally meet, they immediately fall in love. This almost costs Aladdin his head. But, just as Emperor Ming's executioner is about to give him the chop, Aladdin is rescued by his 'uncle' Abanazer!
As payment for saving his life, Aladdin must retrieve a dusty old lamp from inside a mountain cave for Abanazer! Things don't go to plan and Aladdin is sealed in the cave, which is when he meets the Genie of the Lamp!
What happens next and how does it all end?
To find out, book your seats now!
Aladdin A Genie-Us pantomime is an exciting, friendly, funny, pantomime for the whole family - with some great routines, jokes and one-liners. Godalming Theatre Group's annual panto is the best start to the festive season.
Tuesday 12th to Sunday 17th December
- 7.30pm with 2.30pm matinee on Saturday and Sunday
Tickets
£12.50 (£11 only on Tuesday night)
Ticket sale opens on 15th September