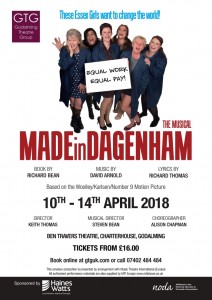 Set in 1968 Essex and based on the hit film of the same name, Made in Dagenham is about friendship, love, and fighting for what's right. Just like millions of other women, Rita O'Grady starts her working day dragging her husband out of bed, packing the kids off to school, and getting to work on time. But life changes forever when Rita, a sewing machinist at the Ford Motor plant, leads her work mates in a strike against the mighty Ford for equal pay ... and wins!
With rousing 60's style pop and rock songs such as "Made In Dagenham", "Everybody Out", "I'm Sorry I Love You", and "Stand Up", ... this funny, touching,
and the timeless story shows how ordinary people can do extraordinary things when they stand together*.
*extracted from an Evening Standard article.
Directed by Keith Thomas, GTG's highly charged, colourfully staged, production with a cast of forty, features Polly King (Rita O'Grady), Ben Dray (Eddie O'Grady), David Dray (Prime Minister Harold Wilson), and Denise Hodgkiss (Minister of Transport, Barbara Castle).
Tuesday 10th to Saturday 14th April
- 7.45pm with 2.30pm matinee on Saturday
Tickets
£17.50 (£16.00 only on Tuesday night)
Download directions to the Ben Travers Theatre
here
.