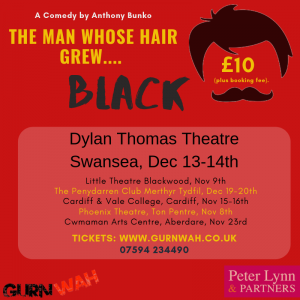 The Man Whose Hair Grew Black by Anthony Bunko (Full Version)Gurnwah Productions are proud to present the latest hilarious comedy by Anthony Bunko.  
A cut-down version of this production received rave reviews at the Merthyr Comedy Festival in April 2019
and is sure to be a winner this November, as the penultimate leg of their 'World Tour of Wales' continues in Blackwood at the Little Theatre. 
A strange tale, a tale that should never be forgotten, or perhaps should be forgotten, it tells the story of Clive the Postman, 
an ordinary man who lives an ordinary life when overnight his hair grew BLACK!!!!
All Tickets are £10 plus £1 Booking Fee. 

GROUP BOOKING OFFER - £52.50 for a group of 6 including booking fees
                                                £83.00 for a group of 10 including booking fees
Performances start at 730 pm. 
December 13th & 14th at the Dylan Thomas Theatre, Swansea.