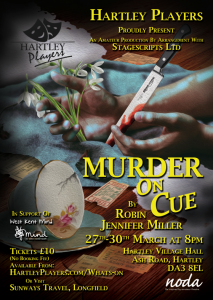 27 to 30 March 2019
 - 8pm
Murder on Cue –
a murder mystery by Robin Jennifer Miller. This production is an amateur production by arrangement with Stagescripts Ltd.
Following our award-winning production of Quartet last November, Hartley Players bring you a light-hearted whodunnit to test your powers of deduction while thoroughly entertaining you.
Dead bodies, poison pen letters, intrigue and accusations will keep you guessing until the killer is finally unmasked. Will you guess who it is before the denouement?
The play is set in a retirement home for actors, where gossip and old rivalries sustain the residents. Sounds a bit like Quartet with actors instead of singers? There the similarity ends!
A fall of snow means the home is cut off from the outside world so no one can leave – including Gareth, the solicitor who arrived that afternoon to re-do the will of his Aunt Sybil. There has been a spate of anonymous poison pen letters. In an attempt to get to the bottom of the letters, the residents read out the ones they have each received. This results in secrets being revealed, some more reluctantly than others but, as accusations fly, a body is discovered. Detective work finally reveals the truth and the killer is unmasked.
Directed by Lindsey Hudson
Cast:
Sue – Carol Arman-Addey
Judy -Wendy Stuckey
Gareth – Cliff Martin
Molly – Jacky Richardson
Sybil – Judy Burrows
Desiree – Wendy Seal
Olivia – Margaret Bown
Charles – Nick Noakes
Larry – Martin Arman-Addey