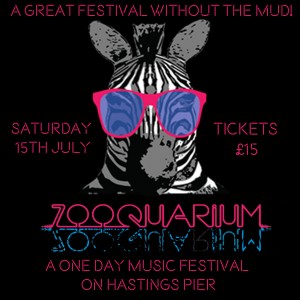 Please note: Online tickets are now unavailable, but you can get yours on the door for the same price. See you there!
ZOOQUARIUM is a new one-day festival hosted by Hastings Pier Charity on Saturday 15th July 2017. A day of brilliant music with over 30 amazingly talented bands and artists from the South East performing on the beautiful pier and not a drop of mud in sight! If you are 14-24 years old, this festival is for you, but if you are 14-24 years in spirit you are welcome too.
We are very excited to have secured Rat Boy as the headline act who is "One of the UK's most exciting new acts." (DIY) and as NME describe him he is "A potent mix of Blur's cockney knees-up side, the urgency of The Libertines and Beastie Boys' in yer-face raps." He is supported by a wealth of other artists during the day including Dr Savage, We-are-Z, Billionaire, Marie White, Bless, The Kid Kapichi, Barbarella's Bang Bang, Someone/Anyone, Jamie Smart and Dorey The Wise.
There will be four stages - Starling Stage, Sunset Stage, Journey To The Deep Stage and Lounge Lizard Stage, which will host a variety of different acts during the festival, so there is something for everybody to enjoy.
Aside from the music, you can enjoy fabulous food and drinks in the Grazing Ground and cocktails at the Pink Flamingo cocktail bar on the Upper Deck, if you fancy a Mojito whilst listening to the music and watching the sea. If this isn't enough for you, then you can get snapped in the photo booth, hand drawn by a live artist, join one of the masterclasses or watch the work of local film makers.
In true Hastings and St. Leonards style . . . come dressed up and unleash your inner animal in a ZOOQUARIUM inspired costume and take a place in the costume Hall Of Fame, with prizes for the best dressed.
All this for a wondrous £15, for a full day of unadulterated fun. Go on . . . you know you want to!
Under 14's must be accompanied by an adult aged 21 or over - proof of age identification will be required at the event. Any under 14's attempting to enter the festival without an adult will be denied entry to the event.