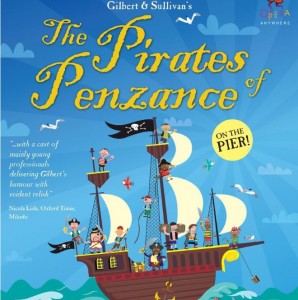 By Gilbert & Sullivan and presented by Opera Anywhere.
***THE ONLINE BOX OFFICE HAS NOW CLOSED BUT TICKETS WILL STILL BE AVAILABLE ON THE DOOR***
A swashbuckling farce of brilliant humour and razor-sharp wit, this wonderfully jolly romp is complete with brave(ish) pirates, a completely dotty Major-General, his beautiful unwed daughters and a bumbling bunch of hopeless but hilarious policemen.
With such famous songs as 'I Am The Very Model Of A Modern Major-General', 'A Policemen's Lot Is Not A Happy One', and 'Poor Wand'ring One' to name but a few, Pirates of Penzance is a fantastic family friendly mix of comic characters, witty dialogue, and great tunes.
"...with a cast of mainly young professionals delivering Gilbert's humour with evident relish"
This enjoyable evening will take place on the Upper Deck with stunning views along the coastline. Limited tickets available! Book now to avoid disappointment.
Under 16's must be accompanied by an adult aged 21 or over - proof of age identification will be required at the event.