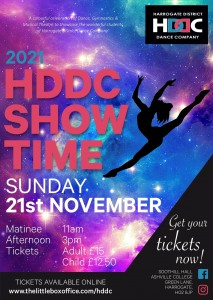 A colourful celebration of Dance, Gymnastics & Musical Theatre to showcase the wonderful students of Harrogate District Dance Company.
Sunday 21st November 2021
Matinee 11.00am. Afternoon 3.00pm
(Doors open 45 minutes prior to the performance start time)
Ticket prices:
£15.00 Adults
£12.50 Children
(Age 3 and under go free if sitting on a parent's knee. If you would like your child to have their own seat a child's ticket will need to be purchased, thank you).