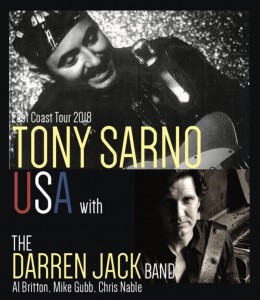 Saturday 27th January
Doors Open @ 7pm
Tony Sarno has toured the USA, Canada, Europe,
Australia, Argentina and Mexico with his own band or as guitarist with Felix Cavaliere's Rascals , David Clayton Thomas ' Blood Sweat and tears, Dee Archer and Peter Tork.
Over the years he has shared concert bills with BB King, as well as bills with Stevie Ray Vaughan, Hall and Oats, Johnny Winter and Little Feat.
Tony has recorded critically- acclaimed Rock and Blues albums and his music has
appeared in the The Craig Brewer film Poor and Hungry, and on the Masters of the
Blues cd compilation with Albert King, Buddy Guy, and The Allman Brothers.
" I very much look forward to playing for the blues/rock lovers in Australia for my
third tour there. The passion that we share for this honest music will be celebrated
as I perform with the PowerHouse Darren Jack band, featuring Darren Jack on guitar and vocals , Chris Nable on drums , Al Britton on bass and Mike Gubb on keys