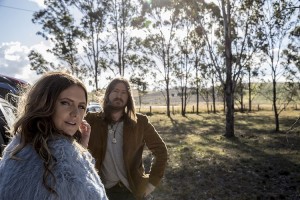 DOORS @7PM

Hot on the heels of the release of their acclaimed debut duo single "Train Wreck", much loved Australian country music couple Adam Eckersley and Brooke McClymont will hit the road next year to tour their self-titled Album "Adam & Brooke", which will be released on February 9th through Lost Highway/Universal Music Australia.
The Central Coast based husband & wife duo performed a series of acoustic shows throughout June and July and felt so inspired that they decided to expand the project into an album and a more extensive run of shows. The first announcement of the 'Highway Sky Tour' dates will take in Sydney, Melbourne and Brisbane as well as regional dates and more dates will be announced in the coming weeks. The tour is presented by CMC and the KIX Country Network, Australia's only 24 hour national country radio network.
Fans can expect to hear songs from the album along with a selection of favourites from the extensive catalogue of both The McClymonts and Adam Eckersley Band. "
The great thing about the acoustic shows is we get to tell lots of stories about the songs and we crack each other up when we're onstage."
Adam commented. "
The shows feel like we've got a bunch of our closest friends in our lounge room and there's songs that make people cry and songs that make people dance so there's something for everyone."
Brooke added.
"We can't wait to hit the highway with this show."