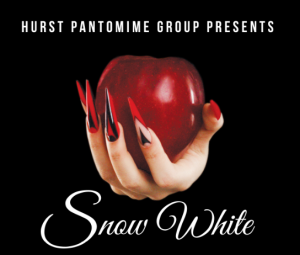 "Mirror, mirror, on the wall, who's the fairest of them all…?"
Snow White.  Obviously.  But when you're the princess' evil aunt, Queen Elvira, that's not really the answer you want to hear.  
When Snow White flees Hurstville after the queen sends her idiot manservant on a failed mission to kill her, Elvira realises that the only way to do something properly is to do it yourself.  Meanwhile, Prince Caspian has travelled far and wide on his search for a bride, and the princess finds herself the welcome guest of seven dwarves who work in the diamond mine at the edge of the forest.  Here to save the day when Elvira tricks Snow White into eating a poisoned apple are Nurse "Nursie" Thoroughgood and her hapless son Muddles, aided by some last-minute fairy magic and the thigh-slapping prince.  Hurst Pantomime Group returns with this traditional panto for all the family, welcoming a team of faces old and new for an evening of entertainment that is of the highest of brows.
FOR TONIGHT'S PERFORMANCE
Saturday 19th January 2019 
We have just a few remaining seats (including those reserved for wheelchair and disabled seating) left for the evening performance at 7:30pm tonight.  If you are unable to secure any seats via the online Box Office then please text us on 07867900745 and we will check to see if we can get you in.
RETURNS. 
 If you are unable to come this evening and are happy for your tickets to be resold, then please text us on 07867900745 with the seats number(s) you wish to release.
Ticket PricesSaturday 19th 
- Standard tickets are £13 each and Concessions (OAPs and Under 16s) are £9 each.  
A small booking fee will be added to the cost of the tickets on checkout.  This is NOT a credit card charge, but a fee to cover the cost of the 3rd party online booking system.
​Please note that there is a minimum age of 5 years for the evening performances.

If you have any further queries regarding booking tickets, then please email the Box Office at boxoffice@hurstpanto.org.uk 
PLEASE NOTE THAT ​TICKETS ARE NON-REFUNDABLE AND NON-EXCHANGEABLE.
Hurst Pantomime Box Office reserves the right to change and amend bookings. If your preferred performance is fully booked we will operate a wait list on a 'first come, first served' basis.  Equally if you are unable to attend then please let us know and we will endeavour to match your unwanted ticket(s) with our wait list.  Please email boxoffice@hurstpanto.org.uk for more details.

This is a fundraising event and all proceeds will go to the Hurst Pantomime Group