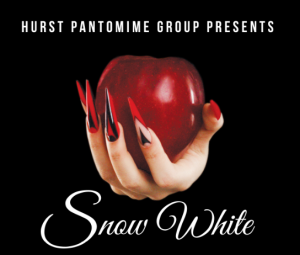 "Mirror, mirror, on the wall, who's the fairest of them all…?"
Snow White.  Obviously.  But when you're the princess' evil aunt, Queen Elvira, that's not really the answer you want to hear.  
When Snow White flees Hurstville after the queen sends her idiot manservant on a failed mission to kill her, Elvira realises that the only way to do something properly is to do it yourself.  Meanwhile, Prince Caspian has travelled far and wide on his search for a bride, and the princess finds herself the welcome guest of seven dwarves who work in the diamond mine at the edge of the forest.  Here to save the day when Elvira tricks Snow White into eating a poisoned apple are Nurse "Nursie" Thoroughgood and her hapless son Muddles, aided by some last-minute fairy magic and the thigh-slapping prince.  Hurst Pantomime Group returns with this traditional panto for all the family, welcoming a team of faces old and new for an evening of entertainment that is of the highest of brows.
Booking is easy...just follow these instructions!
We are only selling tickets for the pantomine online and this allows you to choose your own seats.  The online box office is straighforward to use, but to avoid any problems you just need to follow the instructions carefully.  Please note that to help us ensure that we get a full house for every performance, the system will prevent you from booking any seats that leave a single seat on it's own. 
If you are 
coming with Under 16s or OAPs
 and you want to book both Standard 
and
 Concessions tickets then please take a note of the following instructions:
1. Firstly find the Standard seats you want and then click on
 'ADD TO CART' 
and you'll see under the heading of 
SELECTION
 the seats you have already saved. 
2. To book your Concession seats alongside, in the section titled 
TICKETS 
you then need to click on 
SELECT 
and then
choose your seats and click
 'ADD TO CART'
3. Once you have all your chosen seats in your shopping basket you'll be able to proceed to the check out where you can pay by credit card.  
Ticket Prices
Thursday 17th
 - Standard tickets are £10 each and Concessions (OAPs and Under 16s) are £7 each.  
Friday 18th 
and 
Saturday 19th 
- Standard tickets are £13 each and Concessions (OAPs and Under 16s) are £9 each.  
A small booking fee will be added to the cost of the tickets on checkout. This is NOT a credit card charge, but a fee to cover the cost of the 3rd party online booking system.
Terms and Conditions apply.  
This is a fundraising event and all proceeds will go to the Hurst Pantomime Group