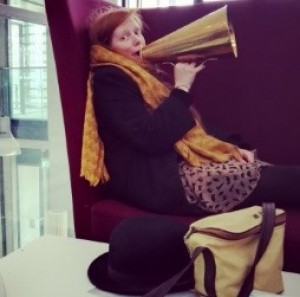 Local poet Sarah Cave will be hosting two workshops as part of the lead up to the Words in Woods Festival this spring:

'Can we eat what we already have in our mouths?': Re-inventing Characters in Poetry

The Old Library, Bodmin | Saturday 13th April | Adults: 10am-12:30pm | Children 2pm-3:30pm 

Morning workshop | Adults


Using a Dadaist approach to writing poetry, the group will look at how to incorporate pre-existing characters into their poetry. Through a series of creative writing exercises, including anagrams and collage, the group will create a poem similar in style to John Ashberry's Popeye sestina, 'Farm Implements and Rutabagas in a Landscape'. We'll also look at a handful of poems that use characters such as Luke Kennard's Cain, clinic press's Simpson anthology Can I Borrow A Feeling? and Sophie Collin's Who is Mary Sue?
2 ½ hours | all abilities | £10. 

Afternoon workshop | Children
 
The children will become Dada poets for the afternoon and explore the anarchic poetry practices of the movement. They'll create exciting and contemporary feeling poetry. We'll get to know each other by pulling poems out of a top hat and create Dada poems featuring favourite characters from TV, films and books.
1 ½ hours | ages 7-11 | FREE. Please note, all children must be accompanied by an adult. 

About Sarah:

Sarah Cave is a poet who lives in a wood near Bodmin. She has two previously published pamphlets and her third, like fragile clay, an illustrated chapbook about the Moomins, was published by Guillemot Press in 2018. Her first collection, An Arbitrary Line, was published in November 2018 by Broken Sleep Books. Sarah was poet in residence at the Charles Causley house in Launceston and the Bodmin Moor Poetry Festival's resident at the Hillfort School in Liskeard. She was also poet in residence at the West Norwood Farm's Lottery funded Iron Age dig where she led workshops for children and adults. Sarah has been published in numerous magazines and performed at various festivals including Festival Jeunes Écrivains in Paris. Her second collection is due to be published at the end of 2019.