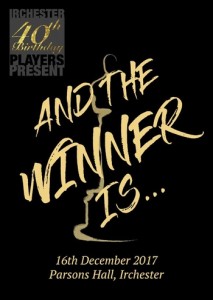 Irchester Players will hold its Biannual Oscars Ceremony for its members this December at Parsons Hall, which will be decked out as if you were in Hollywood.
There will be a full cabaret style show by Dan Wainwright, speeches from members, video recaps for nominees and a few laughs. There will be a fully licensed bar and canapé on offer, giving the event a luxurious feel. And don't forget the red carpet too.
The most sought after awards of the evening are:
★ Best Director
★ Best Show
★ Best Producer
★ Best Actor and Actress
★ The Dorothy Fletcher Memorial Cup, the SNAFU Award
★ The Shield for Outstanding Contribution
★ The Heart of Irchester Players
Whilst this is a members event, family members and friends of the members or society are very welcome to attend to share in the celebrations.
Show Dates
Saturday 16th December 2017 - from 19:30 to midnight
Ticket Price
Under the age of 10 free, all other tickets £10.00.