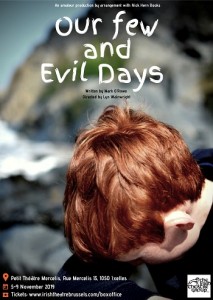 Credit Card bookings only at present.
We have temporarily (July-August) removed the possibility of being able to reserve seats and pay later via Bank Transfer. This is a manual and slow process at the best of times and we know we wil not be responsive enough to those requests over the summer. We will bring that option back in late August. 
In addition, our box office provider has made some system changes which means that we no longer have the PayPal option. It will not be coming back. Sorry about that.
For any problems experienced with our booking system, please let us know: itg.asbl@gmail.com (be aware that we will be checking email over the summer, but not very frequently).