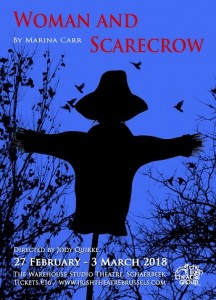 If you would like to confirm and receive your tickets immediately (by email attachment) select the PayPal/ Credit Card options.
It is also possible to reserve tickets and then pay by Bank Transfer. This is a slow and manual process, so expect a delay in getting confirmation of your reservation or payment.
Reserved tickets should be paid by bank transfer to The Irish Theatre Group:
310-0258681-68 (IBAN: BE82 3100 2586 8168, BIC: BBRUBEBB), stating Scarecrow and the name of the person who booked the tickets if different from the bank account holder.
For any problems experienced with our booking system, please let us know: itg.asbl@gmail.com