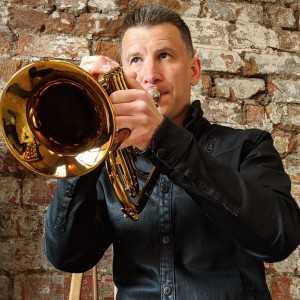 Jazz trumpet player, composer, arranger and producer Gary Alesbrook is back in the spotlight with new album releases to his credit and a growing reputation for playing an exciting, diverse range of music spanning jazz, blues, calypso and even nu soul. 
Influenced by the playing of Chet Baker and Art Pepper and the lyrics of Cole Porter and Gershwin, Gary's music is deceptively simple but beautifully executed in the style of 50s and 6os jazz. His band swings hard, complemented by Gary's warm melodic trumpet playing.
His second album "The Stories We Tell Ourselves," released October 29th, 2019 consists of eleven original jazz compositions and features two time Grammy nominated guitarist and vocalist, Raul Midón as well as Lyme Regis favourite, Leigh Coleman. 
He has worked alongside artists as varied as Kasabian, Rag N Bone Man, KT Tunstall, Noel Gallagher, Tom Jones and Scissor Sisters as well as performed on movie, TV and computer game soundtracks. 
Gary Alesbrook - Trumpet/Flugelhorn
Anders Olinder - Piano
Adam King - Double Bass
Ian Matthews - Drums 
"Gary's trumpet playing has a beguiling touch, reminiscent of Chet Baker"– B24/7
Listen
Book
Venue Marine Theatre
Church Street
Lyme Regis
Dorset
DT7 3QB