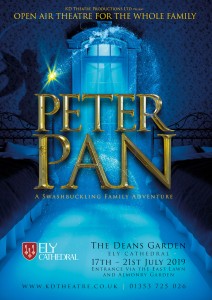 Seating Policy
The performance of PETER PAN will be unserved seating and we encourage audience members to bring their own picnic blankets and chairs. There will be a limited number of chairs at the venue available on a first come, first served basis. There is also a picnic area immediately in front of the chairs for audience members to sit on the lawn. Please note: purchase of a ticket guarantees admission but does not guarantee a seat.
Entrance to The Deans Garden is via the East Lawn and Almonry Garden
Wet-weather policy
Performances will normally continue in the event of wet weather. We would encourage audience members to bring umbrellas and waterproof clothing. If a performance is cancelled, then all tickets remain valid for any other performance.
Babes in Arms
To comply with fire regulations and licensing, every person in the venue, regardless of age, must have a valid ticket.   Any child under the age of 18 months may attend for free if accompanied by an adult with a valid 'Adult with Babe in Arms' ticket but the child must sit on the lap of an accompanying adult. Children over the age of 18 months must have their own ticket charged at the applicable rate.   
Once in the venue, please consider the customers around you when handling your baby, do not block the view of the child or patron behind you and if baby cries, please take him/her out of the theatre promptly. 
Individual 'Adult with Babe in Arms' tickets can be purchased online or from the Box Office.
Disabled Access including 1:1 Carers
Wheelchair accessible seating can be booked online or by contacting the box office by purchasing a standard adult or concession ticket.
Disabled customers who meet the requirements for proof of disability, as detailed below, will be able to purchase a ticket for themselves at the standard Adult, Concession or Admit 1 price and also receive a reduced rate 1:1 Carers ticket. Carers must be capable of supporting the disabled person's needs in the event of an emergency or evacuation of the venue. Carers must be aged 16 plus.
If you have a temporary disability and require a carer / companion in order to be able to attend the pantomime please telephone the box office to discuss your requirements.
Box Office: boxoffice@kdtheatre.co.uk
or
01353 725 026