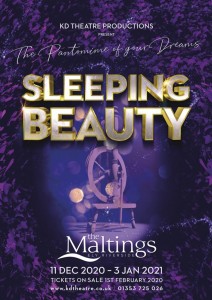 Join us for the most dreamiest pantomime of them all, 

'SLEEPING BEAUTY'

, at 

The Maltings in Ely.
In the Kingdom of Elytopia, celebrations have begun for the birth of the Princess Beauty, that is until the Evil Carabosse appears uninvited and casts a curse on the Princess that on her 18th birthday, she will prick her finger on a spinning wheel and fall into an enchanted sleep. Will the Dashing Prince save her from her slumber? Will the Nurse ever find a new husband and will Muddles finally get the court Jester job he's so longed for! 
We are delighted to announce that Ely's Favourite Funny Man, 

Terry Gauci

, will return for his 7th Ely Pantomime as 'Nurse O'Dear'
Featuring a live band, spectacular sets, stunning costumes and a cast of seasoned professionals – there really is no better home for family pantomime in East Cambridgeshire!
Babes in Arms
To comply with fire regulations and licensing, every person in the auditorium, regardless of age, must have a valid ticket.   Any child under the age of 18 months may attend for free if accompanied by an adult with a valid
'Adult with Babe in Arms'
ticket but the child must sit on the lap of an accompanying adult. Children over the age of 18 months must have their own seat charged at the applicable rate.   
Once in the auditorium, please consider the customers around you when handling your baby, do not block the view of the child or patron behind you and if baby cries, please take him/her out of the auditorium promptly.  Prams/buggies may be stored in the foyer at the owner's risk.
Individual 'Adult with Babe in Arms' tickets can be purchased online or from the Box Office.
Disabled Access including 1:1 Carers
Wheelchair accessible seating can be booked by contacting the box office.
Disabled customers who meet the requirements for proof of disability, as detailed below, will be able to purchase a ticket for themselves at the standard Adult, Concession or Admit 1 price and also receive a reduced ratre 1:1 Carers ticket. Carers must be capable of supporting the disabled person's needs in the event of an emergency or evacuation of the venue. Carers must be aged 16 plus.
If you have a temporary disability and require a carer / companion in order to be able to attend the pantomime please telephone the box office to discuss your requirements.
Box Office: boxoffice@kdtheatre.co.uk or 01353 725 026
(Phone line is staffed Monday & Thursday 10:00 – 16:00. An answer phone is available outside of these times)