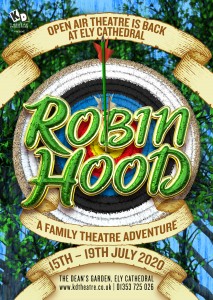 Join Robin Hood & his Merry Men for an outdoor adventure as Ely's Open-Air Theatre returns to the Dean's Garden, Ely Cathedral with another riotous classic which is bound to hit the bullseye this Summer!
After the success of last year's production of Peter Pan, KD Theatre Productions are delighted to be bringing their brand-new take on this heartfelt story to the beautiful private grounds of the Dean's Garden.
Featuring an exciting fresh script, loveable characters, and an opportunity for the audience to meet the characters after the show, this production has all the right ingredients to be entertaining for all the family against one of Ely's most iconic landmarks as the backdrop.
How do we get into the Dean's Garden?
Access to the Dean's Garden is via the Almonry Gardens on the Ely High Street or via the East Lawn of the Ely Cathedral. There will be signs to follow.
Please note that Disabled access is via the East Lawn.
Is there Parking?
There is no parking on site, however the nearest car parks are Forehill Car Park and St Mary's Street Car Park.
Can we bring Picnics?
We welcome audience members to enjoy the gardens pre-show and bring their own picnics. Only alcoholic drinks purchased from our outside bar (cash only) are allowed in the venue.
Will there be chairs?
We encourage audience members to bring their own seating (chairs, picnic blankets). There will be a limited amount of seats provided at the venue.
We will be creating separate areas for picnic blankets and chairs, so please sit in the appropriate areas which will be sign posted.
What time can we arrive?
The gates will be open one hour prior to the performance. We encourage audience members to come along and enjoy the garden before the show!
How long is the performance?
The performance will last 1 hour and 40 minutes including a 20 minute interval followed by a meet and greet with the cast where there will be an opportunity for photos.
Will the weather effect the performance?
The performance will be taking place unless you have been notified otherwise. If it rains, we do encourage you to bring umbrellas and coats. Performances will only be cancelled if extreme weather conditions are deemed dangerous for the production to take place. Should a performance be cancelled by the company, we will refund or exchange your tickets.