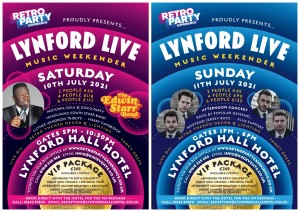 Retro Party Experience Proudly Presents, 

Lynford Live Music Weeeknder. 
Retro Music Festival At Lynford Hall Hotel Thetford
Come & Join The Retro Fun! 
Saturday 10th July 2021 - 5pm to 10:30pm - Outdoor Event 
MOTOWN, SOUL & DISCO PARTY!
Headline Act,  The Edwin Starr Band - The Team featuring Angelo Starr

The late great Edwin Starr's original 8 piece band The Team, who backed Edwin on all his shows are still intact. Inlcuding sax, keyboard, lead guitar, bass guitar, drums, percussion & female backing vocalist. His younger brother Agelo Starr  has now taken over lead vocals performing all the fantastic Edwin Starr classics, plus dynamic performances of some great Motown & Soul covers. An amazing night is guaranteed, don't forget to bring your dancing shoes with you.

Click Here https://www.youtube.com/watch?v=wO2OuhUfqm8 The Edwin Starr Band - The Team featuring Angelo Starr Live 
HARRY CAMBRIDGE - LUTHER VANDROSS show
Luther Vandross sadly passed away on July 1, 2005) but his legend and music lives on in HARRY CAMBRIDGE.
Harry recreates the sound and has the soul in his solo show to the world's greatest soul singer Luther Vandross.  
Harry Cambridge sings hit after hit they are all there including 'Dance with My Father Again ' "
Never Too Much
",' Always and Forever',  
The Best Things in Life Are Free
" and many many more. Harry has recently been taking a lead star role in the UK Productions show LUTHER UK  
Just not to be missed!  
Click here 
https://youtu.be/HaPgibXF1lU
  Harry Cambridge 'Dance with My Father Again' and more.
Saturday Tickets ONLY
£59 Per Space Includes 2 People
£118 Per Space Includes 4 People
£177 Per Space Includes 6 People
Sunday 11th July 2021 - 1pm to 6pm

Back By Popular Demand!

West End Jerseys 
Afternoon Concert in the stunning grounds of Lynford Hall Hotel. 
Come and enjoy the iconic sound of one of the most successful bands of the 50's and 60's. Marvel at that unmistakable falsetto sound of Frankie Valli, lovingly recreated by some of the nation's best vocalists.
Add to that, slick routines, close harmonies, and above all, the experience and professionalism to match, all four members of WEST END JERSEYS have appeared in London's West End

Supported by, Roy G Hemmings 
Both critics and fans agree that Roy G Hemmings is a great showman and dynamic singer. As the longest-serving former member of legendary group The Drifters.
Full of timeless songs performed with energy and sensitivity, his show includes the hits of Otis Reading, James Brown, The O-Jays, Temptations, Four Tops and other Motown and Soul greats. 
Sunday Tickets ONLY 
£45 Per Space Includes 2 People
£90 Per Space Includes 4 People
£135 Per Space Includes 6 People