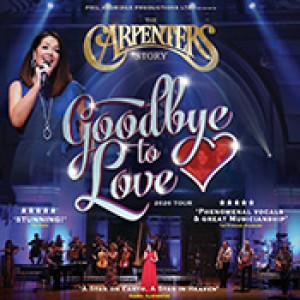 The Carpenters Story brings the show bang up-to-date with Phil's lavish arrangements, stunning vocal harmonies and Claire Furley's uncanny representation of Karen Carpenter which combine to bring back memories of pop's most melodic duo.
Featuring all the songs that made The Carpenters a legend in the world of music, including: They Long to be Close to You, We've Only Just Begun, I Won't Last a Day Without You, Goodbye to Love, Yesterday Once More, Top of the World, Please Mr Postman and Solitaire.


DATES:

Thursday 31st March 2022 - 7.30pm


OUR OFFER :
All Tickets: £31 (Full Price £32)
Personal Assistant ticket - You will be required to purchase one Standard entry ticket, to be eligible for one free Personal Assistant ticket. 
COVID-19 Policy:  If the performance you book doesn't go ahead, you will simply be rescheduled to a new date that is available to us.  As per our standard Terms and Conditions, if the show is fully cancelled, refunds can only be carried out if we are refunded first.  As we book in a group to benefit from amazing discounts, our Terms and Conditions with the Theatres are slightly different to those if you were booking full price direct.  Therefore a rescheduled date is the first priority.  If you can't make that date, we may be able to offer alternatives or if not, you can sell your tickets to another Let's All Go member for the same value. By purchasing our tickets, you are continuing to support Theatres, Family Attractions and Let's All Go - Thank you
.
Leave more time
There may be additional checks and procedures to complete, so please leave plenty of time for your arrival.
We'll be maximising circulation space, reducing queues and opening auditorium doors as early as possible.  
Please note the seating plan is an approximate representation only and is not spatially accurate.
AGE RECOMMENDATION :
 It is the Customer's responsibility to assess the suitability of an Event .
.All persons entering the theatre, regardless of age, must have a Ticket.
Age guidance 12+
TICKETS :
Your Tickets will be posted to you after our offer has ended 
You will be emailed when your Tickets are posted, please look out for this email.  
(Please add hello@letsallgouk.co.uk to your list of safe senders). 
.Please note the seating plan is an approximate representation only and is not spatially accurate.
OFFER ENDS :  WHEN TICKET A
LLOCATION HAS SOLD OUT - TICKETS  POSTED APPROX. 5 DAYS BEFORE SHOW.
Please click here to view terms and conditions of booking.
NON INVASIVE COVID19 STATUS CERTIFICATION CHECKS:

As a condition of entry to the venue, all guests (age 18 and over) shall be required to show ONE of the choice of certifications below:

i.        A negative COVID-19 lateral flow test result (taken in the 48 hours prior to attending the Event) from a UK Government-approved test provider (either via a home kit or via a test centre), with certification shown via email, text or on the NHS App.  For ease, you can order your Government approved tests via this link and upload your results on the NHS App - instructions given in your test pack https://www.gov.uk/order-coronavirus-rapid-lateral-flow-tests.  You can also pick up these tests at your local chemist but please double check they have stock in good time.

ii.        A double COVID-19 vaccination received at least 2 weeks prior to attending the Event, which guests shall be required to show evidence of via: (a) the NHS App for Ticket Holders in England. 

iii.      Proof of natural immunity based upon a positive PCR test taken within 180 days of the Event.

iv.      Attendees under the age of 18 will be asked for verbal confirmation (by them or by a parent or guardian on their behalf) that they have not received a positive test for COVID-19 and are not displaying symptoms of
      COVID-19.  

We deeply apologise for this inconvenience.  I'm afraid we're not able to help should you attend and not be able to provide proof.  The Theatre has made it very clear refunds will not be issued.