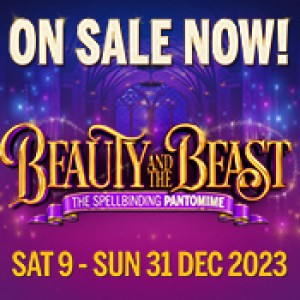 One of the most romantic pantos of all time, Beauty and the Beast will be a spectacular and enchanting production for all the family.  

Dreaming of a happier life, Belle finds herself transported to a cursed castle and held captive by a terrifying beast. To her surprise, the castle is full of magical characters placed under a spell by an evil enchantress. 

Can Belle see beyond the monster and fall in love with her captor before the last petal falls from the enchanted rose? Or will the Beast's selfishness cost him the world he once knew and the hand of the girl who has melted his heart? Find out in this magical pantomime adventure! 

With over 30,000 theatregoers attending pantomime at The Orchard Theatre each festive season, it's never too early to book for this year's show!



DATES:

Wednesday 13th December 2023 - 7pm



OUR OFFER :
All Tickets: £32 (Full Cost Standard £40.50)(Full Cost Concession (Under 16/Over 60) £37.50)
Personal Assistant ticket,  You will be required to purchase one full-priced entry ticket, to be eligible for one free Personal Assistant ticket. 
COVID-19 Policy:  If the performance you book doesn't go ahead, you will simply be rescheduled to a new date that is available to us.  As per our standard Terms and Conditions, if the show is fully cancelled, refunds can only be carried out if we are refunded first.  As we book in a group to benefit from amazing discounts, our Terms and Conditions with the Theatres are slightly different to those if you were booking full price direct.  Therefore a rescheduled date is the first priority.  If you can't make that date, we may be able to offer alternatives or if not, you can sell your tickets to another Let's All Go member for the same value. By purchasing our tickets, you are continuing to support Theatres, Family Attractions and Let's All Go - Thank you.
 AGE RECOMMENDATION :
 It is the Customer's responsibility to assess the suitability of an Event .
All persons entering the theatre, regardless of age, must have a Ticket.
Pantomime is loud for a small pair of ears,
Spectacular sights can sometimes cause tears!
If bringing a little one, please be aware
One or two scenes are intended to scare.
The odd naughty joke for grown-up laughter
Ensures that we all finish Happily Ever After. 
TICKETS :
Your Tickets will be emailed to you after our offer has ended 
(Please add hello@letsallgouk.co.uk to your list of safe senders). 
EXTRA INFO:
Please note the seating plan is an approximate representation only and is not spatially accurate.
Personal Assistant ticket,  You will be required to purchase one full-priced entry ticket, to be eligible for one free Personal Assistant ticket.
Leave more time
There may be additional checks and procedures to complete, so please leave plenty of time for your arrival.
We'll be maximising circulation space, reducing queues and opening auditorium doors as early as possible.
OFFER ENDS :  WHEN TICKET A
LLOCATION HAS SOLD OUT - TICKETS  EMAILED APPROX. 1 DAY BEFORE SHOW.
Please click here to view terms and conditions of booking.