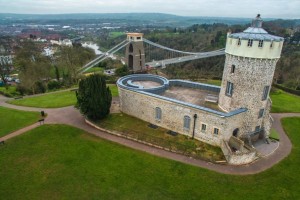 This walk first takes you past the stately Ashton Court Mansion house, it's pretty rose garden and the mansion's old ice house. You then have a gentle ascent up through the Ashton Court Estate and past the Fallow deer park where you are likely to see these beautiful animals quietly grazing. 
Your route exits under the imposing Clifton Lodge Gatehouse and heads towards Brunel's famous Suspension Bridge past an avenue of grand Victorian houses. The Suspension Bridge is a hallmark of Bristol's landscape and there are expansive views on either side and over Clifton Village.
From the far side of the bridge there's a short loop through some of Clifton's picturesque streets, giving you an opportunity to get a feel of this attractive village, before arriving at the Clifton Observatory and arguably the best views in Bristol. The Observatory also has a camera obscura, the Giant's Cave – a natural cave in the face of the Avon Gorge cliffside – and a café where you can enjoy a cup of tea and a cake if you wish.
Following the same route back over the bridge and into Ashton Court, you will meander down through the Estate to the Festival hub.

It's an easy-to follow self-guided walk. Take it at your own pace, walk with family or friends and stop as often as you want. 

How it works:

Buy your ticket in advance: Buy your ticket here in advance – you can buy for friends and family too. We'll email your tickets plus send you more information closer to the day including what to bring and travel arrangements.

Register at the hub on the day anytime between 9am and 12 noon: We'll have a registration area at our Festival hub in Ashton Court for you to sign in before you start your walk. It'll be on the front lawn beside the beautiful Ashton Court Mansion House. There'll be a marquee and music, street food and hot drinks, plus toilets and a first aid presence. All the walks start and finish here so it's a great place to meet up with friends and fellow walkers and enjoy the vibe. 

Self-navigation: This trail is self-guided and easy to follow. It means you can take it at your own pace, walk with family or friends and stop as often as you want. We will give you easy to follow route directions when you register and you will also be able to download a free app and follow the route on your phone. The route is on good tracks and pavements and if you get into difficulties there's an emergency phone to call and a first aid team on hand to help you out.


Distance: 6 miles
Difficulty: Regular
Time: Register 9am - 12 noon
Meet: Sunday Festival hub, Ashton Court 
Cost: £8