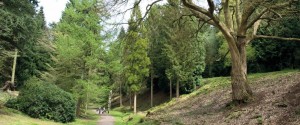 If you want a challenge this is the walk for you. Expect to see deer grazing in the parkland and massive ancient trees in two of Bristol's best woods, feel the magic of a medieval pool and grotto and take in the grandeur of the Avon Gorge. Finally enjoy expansive views as you cross Brunel's iconic Suspension Bridge and immerse yourself in Clifton's elegant Georgian architecture.

It's an easy-to follow self-guided walk. Take it at your own pace, walk with family or friends and stop as often as you want. 

Where you'll go:

Abbot's Pool: One of Bristol's hidden gems, Abbot's Pool dates back to medieval times. Look out for the grotto, mini waterfalls and massive oak and beech trees surrounding the pool. There are a few picnic benches nestled within the waterfall area if you want to stop for a break and if you're a rugby fan check out the Bears impressive training ground which you can see from the track connecting Ashton Court to Abbot's Pool.

Leigh Woods: A beautiful woodland high up on the edge of the Avon Gorge, the trees of Leigh woods should be turning a glorious gold in October and you'll see a cluster of giant Redwood trees and the peaceful pools of Paradise Bottom on your way to the Avon tow path. 

The Avon Gorge: A mighty gash marking the boundary between Bristol and North Somerset, the cliffs of the Avon Gorge rise to an impressive 300 feet and its river has the second largest tidal range in the world. The mud banks glisten at low tide and peregrine falcons, which have nested in the gorge since 1990, are often to be seen. Your climb to get to the iconic Suspension Bridge is through the rich moss-clad, fern-strewn Nightingale Valley.

Brunel's Clifton Suspension Bridge: A hallmark of Bristol's landscape, the Clifton Suspension Bridge designed by Isambard Kingdom Brunel spans the deep Avon Gorge and connects Clifton Village with the unspoilt rural area of North Somerset. You'll cross the bridge in both directions so there's plenty of opportunity to enjoy the expansive views on either side. There's a small museum and public toilets if you need a comfort stop.

Clifton Village: A throwback to the Georgian and Victorian eras, Clifton Village is Bristol's elegant quarter and your route takes in some of its most impressive buildings including Christ Church and Clifton College. You'll also walk along the majestic tree-lined Promenade which should be looking stunning at this time of the year as the beech trees turn from green to gold. 

The Observatory: Built on the site of an Iron Age Fort overlooking the Suspension Bridge, the Clifton Observatory houses one of just three working Camera Obscuras. Take time at the Observatory to enjoy their rooftop café, visit their museum, admire the Camera Obscura or even adventure down the steep tunnel to the Giant's Cave, a natural limestone cave which opens out for amazing views over the Avon Gorge.

How it works:

Buy your ticket in advance: Buy your ticket here in advance – you can buy for friends and family too. We'll email your tickets plus send you more information closer to the day including what to bring and travel arrangements.

Register at the hub on the day: We'll have a registration area at our Festival hub in Ashton Court for you to sign in before you start your walk. It'll be on the front lawn beside the beautiful Ashton Court Mansion House. There'll be a marquee and music, street food and hot drinks, plus toilets and a first aid presence. All the walks start and finish here so it's a great place to meet up with friends and fellow walkers and enjoy the vibe. 

Self-navigation: This trail is self-guided and easy to follow. It means you can take it at your own pace, walk with family or friends and stop as often as you want. We will give you easy to follow route directions when you register and you will also be able to download a free app and follow the route on your phone. The route is on good tracks and pavements and if you get into difficulties there's an emergency phone to call and a first aid team on hand to help you out.
Distance: 12 miles
Difficulty: Demanding
Time: Register 8am-10am
Meet: The Sunday Festival hub, Ashton Court
Cost: £10