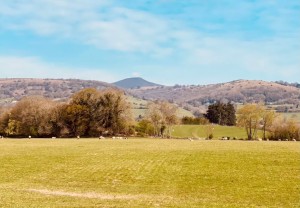 The Sugar Loaf is one of the southernmost summits of the Black Mountains and falls within the Brecon Beacons National Park. If you like a strenuous walk and a challenge, this one is definitely for you, but the paths are good and the views outstanding.

Your walk guide is the experienced international mountain leader Steve Bees who has walked in the area for years and he is starting the walk in the heart of Abergavenny. You'll begin with an attractive riverside walk through lush green meadows beside the river Usk. It's a gentle two mile warm-up under the gaze of another Black Mountain peak, Blorenge, which rises high above to the south. Your route then turns north through the pretty churchyard of St Peter's, Llanwenarth and on to the first of the climbs.
After a few heart-rate raising sections you eventually come to the heather and bracken-clad open moorland and the soft lower slopes leading up to Sugar Loaf's conical peak. There is still some more uphill walking to be done before reaching the rocky peak but, if the weather is good, you will be rewarded with spectacular panoramic views across South Wales and the Brecon Beacons. It is the perfect lunch spot and an opportunity to take in the mountains and nature's beauty.
The route back to Abergavenny descends down the far side of the summit and through a distinctly Tolkien-esk wood with moss-covered ancient oaks. Once you arrive back in Abergavenny, there are plenty of cafes for a cuppa before heading back to Bristol.
There are public toilets near the meeting point. Please bring your own packed lunch and sitting mat and will need plenty of water and snacks.

How it works:

Buy your ticket in advance: Buy your ticket here in advance – you can buy for friends and family too. We'll email your tickets plus send you more information closer to the day including what to bring and travel arrangements.

Make your own way to the walk meet point: Many of our walks have good public transport links, but if you're needing a lift email us at info@letswalkbristol.co.uk and we will pass the message on to other walkers booked onto your walk. If you're wondering about the health and safety issues surrounding car sharing there's some helpful information on the Liftshare travel happy website: https://liftshare.com/uk. 

Meet your guide: Your walk guide will be at the meet point to welcome and register you. We have an amazing team of experienced, insured guides who have designed some fabulous walking routes and who will be able to share interesting information with you along the way. They will also have details of any health/medical notes you told us about when you registered.

Nordic walking? This walk is open to both Nordic and regular walkers, so bring your poles and enjoy the day. There won't be a pre-walk Nordic warm-up so if you'd like to do your own we'd recommend you arrive a bit early. 

Looking after your health and safety: Your health and safety is important to us and we have the following provisions in place on this walk: A requirement for everyone to complete and bring a Covid-19 declaration and waiver in order to participate. A limit on walker numbers to 16 people. A walk assistant to help should anyone in the group need to drop out for any reason. 

Don't forget to book onto our evening socials for afterwards! 
We've two great Evening socials organised so you can meet up with others, continue to enjoy the Festival and experience Bristol's vibrant culture. Underfall Yard is a working boat yard with a stunning view across the harbour. Toto's is a trendy wine bar on the harbour front with a great private terrace. There'll be food, music and plenty of outdoor space for you to enjoy.
 
Distance: 11 miles
Difficulty: Demanding
Time: 9.30am - 4pm
Meet: Fairfield car park, Abergavenny NP7 5SG
Cost: £20