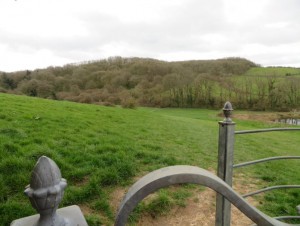 This is a wonderful guided walk along 2 ancient routes – part of the Cotswold Way as it meanders towards Bath, then the Monarchs Way which follows the river Boyd back towards Dyrham.
It is a walk of contrasts – shady woodland, a short steep hill, spectacular views (even on a dull day), riverside meadows and the pretty villages of Doynton and Dyrham.
Starting at the public footpath on the edge of Dyrham Park, the first stretch of your walk is downhill towards Dyrham village to link up with the Cotswold Way.   You will see evidence of medieval strip lynchets on the hillside as you emerge to a wide-open vista with extensive views before heading up into Dyrham wood. There is a place to pause as you climb up through the woodland – with a bench and a message box!  Shortly you reach open fields again.   
You head on down towards the Cotswold village of Doynton, past its pub and across the fields to join the Monarch Way and the river Boyd. Doynton Mill can be seen at the bottom edge of the field and we pass a beautiful wildlife pond which memorialises those from Doynton lost in the two world wars. We will stop around Doynton for our break and packed lunch if you brought one.
The last section is mostly flat across the fields back towards the village of Dyrham. Our walk ends just near the National Trust café in Dyrham Park where you can grab a well-deserved hot drink or maybe a cream tea if you wish. It's a short walk back to the car park from there. The total distance is just under 7 miles. Dyrham Park itself, the 17th century manor house and gardens are open for visiting through the National Trust.
Please bring your own water and packed lunch. Café refreshments are not included. There are public toilets near the start and end of the walk.

How it works:

Buy your ticket in advance: Buy your ticket here in advance – you can buy for friends and family too. We'll email your tickets plus send you more information closer to the day including what to bring and travel arrangements.

Make your own way to the walk meet point: Many of our walks have good public transport links, but if you're needing a lift email us at info@letswalkbristol.co.uk and we will pass the message on to other walkers booked onto your walk. If you're wondering about the health and safety issues surrounding car sharing there's some helpful information on the Liftshare travel happy website: https://liftshare.com/uk. 

Meet your guide: Your walk guide will be at the meet point to welcome and register you. We have an amazing team of experienced, insured guides who have designed some fabulous walking routes and who will be able to share interesting information with you along the way. They will also have details of any health/medical notes you told us about when you registered.

Nordic walking? This walk is open to both Nordic and regular walkers, so bring your poles and enjoy the day. There won't be a pre-walk Nordic warm-up so if you'd like to do your own we'd recommend you arrive a bit early. 

Looking after your health and safety: Your health and safety is important to us and we have the following provisions in place on this walk: A requirement for everyone to complete and bring a Covid-19 declaration and waiver in order to participate. A limit on walker numbers to 16 people. A walk assistant to help should anyone in the group need to drop out for any reason. 

Don't forget to book onto our evening socials for afterwards! 
We've two great Evening socials organised so you can meet up with others, continue to enjoy the Festival and experience Bristol's vibrant culture. Underfall Yard is a working boat yard with a stunning view across the harbour. Toto's is a trendy wine bar on the harbour front with a great private terrace. There'll be food, music and plenty of outdoor space for you to enjoy.
 
Distance: 7 miles
Difficulty: Moderate
Time: 10am - 2pm
Meet: Dyrham, SN14 8HY* National Trust car park  *There is a car park charge for non National Trust members
Cost: £18